In wet, muddy, or dusty conditions, some extra filter protection can help provide peace of mind, and can also help increase time between filter cleanings. K&N® filter wraps and pre-filters help keep water and particles away from your filter—so you can enjoy the benefits of your high-performance K&N® air filter even under rigorous conditions.
DRYCHARGER® FILTER WRAPS
K&N® DRYCHARGER® filter wraps are manufactured from a durable, water-resistant polyester material, and are pre-treated with a proprietary hydrophobic solution designed to prevent splashes of water or mud from saturating your filter. While the protection increase can be considerable, the wrap adds minimal restriction to the airflow of the filter. Wraps are available for universal filters, as well as filters designed for specific vehicles.
---
EXTRA LAYER OF PROTECTION
Wraps your air filter with an additional pre-filter to help increase engine protection in extreme conditions.
WATER REPELLANT
Repels water for up to 1-2 years, and helps prevent splashes of water from saturating your K&N® air filter.
DURABLE MATERIAL
Silicone-treated polyester wrap material contains uniform micron-sized openings to allow for high airflow.
---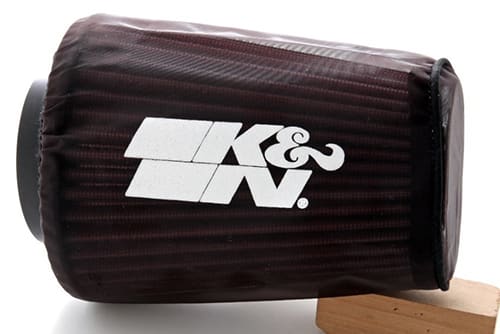 ---
See what customers are saying:
"This product was exactly what I needed. For years my 1982 GPz750 would stumble and stall in a heavy downpour. Last week I took a 300 mile ride in heavy rain and the drychargers kept the water out and the bike running smooth. I wish I had known about these years ago." – Mark from Maryland [Product

RC-1820DK

]
"I really like this little shield. It makes me feel better when I spray down my engine. The water beads off the fabric rather than actually wetting the cotton filter. I don't hose down my engine with a fire house but living in New England I like to lightly spray off the road salt. This product makes me feel a little more confident doing so. It looks cool too." William from Connecticut [Product

RX-4990DR

]
"Seems to work great, driven through heavy rain and deep puddles with no issues, nice tight fit." – Chris from Virginia [Product RF-1041DK]
"These have helped a lot on my last vehicle. I just wash them when they look too dirty and let them air dry." – John from New Mexico [Product 22-8049DK]
---
K&N® AIRFORCE PRE-CLEANER® FILTER WRAPS
K&N® red Airforce Pre-Cleaner® wraps feature specially designed large, open-celled oiled foam. Designed to be cleaned with POWER KLEEN® and then re-oiled with K&N filter oil, these wraps are custom made to fit each application, with four universal cut-to-fit size options also available.
Gray Pre-Cleaner® wraps are composed of smaller foam cells. The non-oiled design is intended to perform best under silty, fine-dust conditions, and can be easily cleaned with POWER KLEEN®.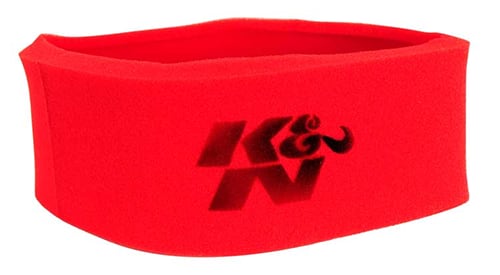 ---
EXTRA LAYER OF PROTECTION
Wraps your air filter with an additional pre-filter to help increase engine protection.
EASY TO CLEAN
Can be serviced with K&N POWER KLEEN® filter cleaner.
OILED OR DRY
Available in either an oiled or dry design—both are washable and reusable.
---