HOW MUCH OIL SHOULD YOU USE ON YOUR K&N HIGH-FLOW AIR FILTER™?
When servicing your High-Flow Air Filter™ (cotton media), be sure to follow the re-oiling directions carefully. Use only K&N oil, and never saturate the filter. If oil drips from the filter, allow the filter to sit for several minutes until it stops dripping, and then wipe any excess oil from the filter frame. Follow the oiling instructions included in the Recharger® cleaning kit, and contact customer service if you have questions regarding the oiling process.
Check for the correct oil amount on the product page
Under the "specifications" tab on individual product pages, you can view the factory oil amount and use that as a benchmark for re-oiling.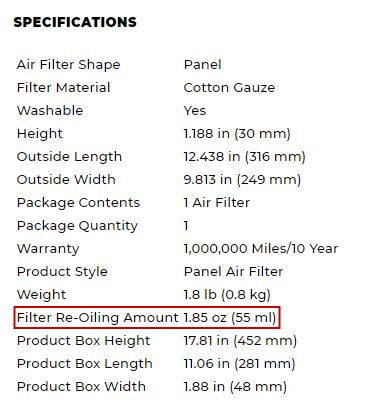 HOW TO RE-OIL YOUR K&N COTTON AIR FILTER
Re-oiling a K&N air filter is simple and can typically be accomplished in just a few minutes. When using an air filter oil squeeze bottle, apply K&N air filter oil evenly along the crown of each pleat. Allow the oil to wick for approximately 20 minutes, and then touch up any light areas on either side of filter until there is a uniform red color in all areas.
If oiling a K&N air filter using the air filter oil aerosol spray, the process is similar to using the squeeze bottle kit. Spray the oil evenly along the crown of each pleat, holding the spray nozzle about 3" away from the filter. Allow the oil to wick for approximately 20 minutes. Touch up any light areas on either side of the filter until there is a uniform red color in all areas.
STEP 1 - APPLY K&N® POWER KLEEN®
Liberally spray Power Kleen® filter cleaner onto both sides of the filter and allow to sit for 10 minutes. Do not allow the cleaner to dry on the air filter.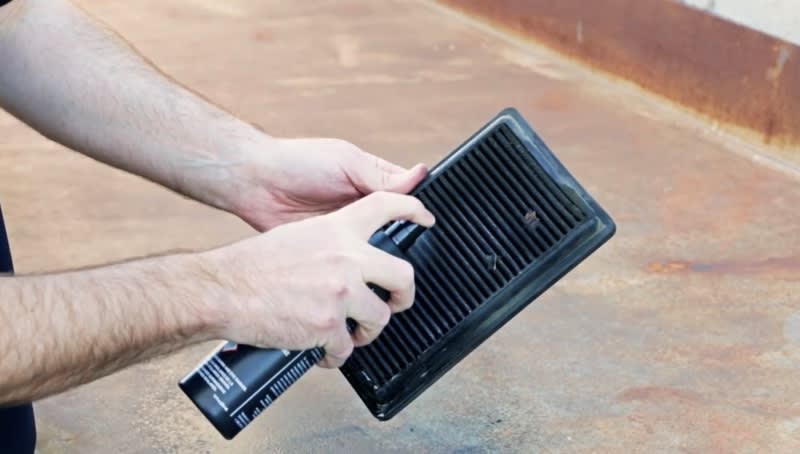 STEP 2 - RINSE YOUR FILTER WITH LOW PRESSURE WATER
Rinse your air filter with cool low-pressure water from the clean side out in order to flush the dirt out of the filter. Continue to rinse the filter until the water runs clear. It may be necessary to repeat steps 1 and 2.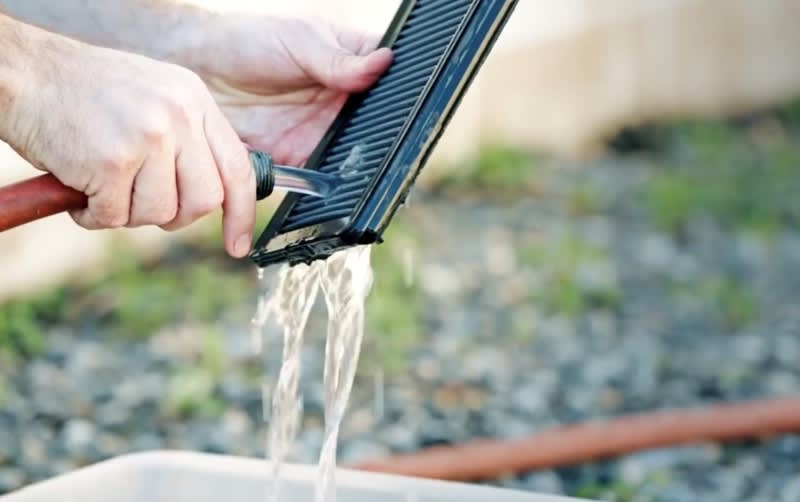 STEP 3 - ALLOW YOUR FILTER TO DRY NATURALLY
After rinsing your filter, gently shake off excess water and allow the filter to dry naturally. Do not apply oil until the air filter is completely dry.
STEP 4 - APPLY K&N® FILTER OIL
OIL WORKS AS A TACKING AGENT
The amount of oil on K&N cotton gauze air filters is minimal (usually less than 2 ounces) and is a critical component of K&N's legendary air filtration technology. K&N air filter oil has been developed to remain suspended within the thousands of microscopic cotton fibers found within the filter media and acts as a tacking agent, designed to grab and hold contaminants that might otherwise pass through the filter into the engine.
Once K&N filter oil is properly and evenly absorbed through the cotton, the oil is almost impossible to remove without cleaner, even under extreme driving conditions. Most K&N air filters come pre-oiled from the factory using automated oiling machines. These machines are programmed to apply the precise amount of K&N air filter oil specific to each K&N air filter. K&N automotive replacement air filters can go up to 50,000 miles (under normal highway driving conditions) before air filter cleaning and re-oiling is necessary. The oversized conical air filters used on K&N performance air intake systems are designed to go up to 100,000 miles before it's time to service the air filter.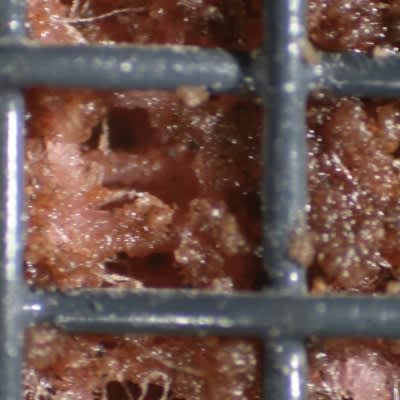 HOW DOES K&N TEST THE AIRFLOW OF AIR FILTERS?
K&N performs airflow testing on a SuperFlow Corporation SF-1020 flow bench, which is a computerized flow bench capable of measuring airflow rates up to 1020 cubic feet per minute (cfm) at test pressures of up to 65 inches of water. K&N has developed procedures for measuring airflow and pressure differential (restriction) of the various size and shaped filter elements that we manufacture. These procedures are followed to ensure a consistent comparison of airflows between filters that are of differing material or manufacture.
HOW DOES K&N TEST DIRT RETENTION?
High airflow isn't the only point of consideration when developing a K&N performance air filter: K&N places the utmost importance on dirt retention and filtration efficiencies. K&N operates an in-house filtration test lab with two different testing machines built in consultation with Southwest Research Institute, and performs tests of filters both in the factory air box and in SAE/ISO recommended test housing fixtures.
RECHARGER KITS
Check out all of the available Recharger kits on our cleaning page.