7 Tips to Help Improve Air Quality
1. CONSOLIDATE YOUR ONLINE ORDERS
If you find yourself placing multiple online orders each week, switch to placing more of your orders in bulk to help cut down on air pollution from shipping. Choosing a specific day once weekly, or even every two weeks if possible, can make a big difference! If you're worried about forgetting to purchase an item, take advantage of "add to cart" options—that way, your items will all be ready for you when you decide you're ready to place an order.
2. CHANGE YOUR ENGINE AND CABIN AIR FILTERS
Dirty engine air filters can reduce airflow, which can potentially decrease the efficiency of your vehicle's engine, and can translate to wasted energy. Using a washable, reusable vehicle air filter like the K&N High-Flow Air Filter™ makes it easy to perform filter maintenance when needed, and helps keep your vehicle's engine effectively utilizing energy. K&N reusable air filters are also designed to last for the entire lifespan of your vehicle—reducing waste that can result from the frequent replacement of disposable filters (around 100 million end up in landfills each year).
Many modern vehicles also have cabin air filters, which can help protect your vehicle's interior from air pollution and particulate matter; K&N offers a washable, reusable option.
3. CHOOSE NON-TOXIC CLEANING PRODUCTS
There is growing evidence to suggest that using certain cleaning products can cause asthma in otherwise healthy people. Using non-toxic cleaning products may help protect you and your loved ones from unnecessary exposure to harmful substances from the air in your home.
4. PLANT A TREE
5. INSTALL A WASHABLE HOME AIR FILTER
A dirty home air filter can decrease the efficiency of your home air conditioning system, can reduce your indoor air quality, and may cause your energy bills to skyrocket. K&N now offers lifetime washable home air filters—allowing you to wash and reinstall your home air conditioning/furnace filter whenever it is dirty. Using a reusable product can also help reduce waste in landfills, since one K&N home air filter is designed to last for the lifetime of your air conditioning/furnace system!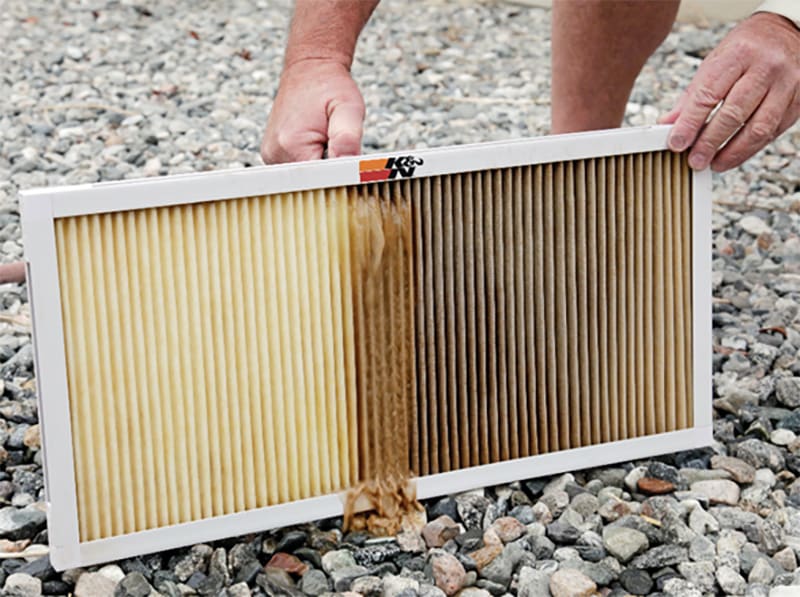 6. DON'T TOP OFF YOUR TANK
When filling up at the gas pump, be sure not to over-fill—the extra gasoline that evaporates is toxic and can contribute to smog.
7. MAINTAIN YOUR TIRE PRESSURE
Vehicles burn more fuel when the tires are underinflated or poorly aligned. Not only may this be worse for the environment—it's harder on your wallet.
*This post is for informational purposes only, and we do not warrant that the information provided will produce any specific results or achieve any intended purposes. Every vehicle is different and subject to different road conditions and wear and tear. You should always follow your manufacturer's recommended service schedule, consult the vehicle owner's manual, and/or have your vehicle evaluated by a properly trained mechanic.