1. CHECK YOUR COOLING SYSTEM
Overheating on the open road in the middle of summer isn't just inconvenient—it can actually cause permanent engine damage. Take a good look under the hood (after the engine has fully cooled, which can take a few hours) and examine your radiator and hoses—any cracks or leaks should be repaired, and all connections should be snug. Shiny areas on belts and hoses are typically a sign of serious wear, and are often the result of extreme heat damage. While you're at it, make sure to fill your coolant reservoir to the recommended level (a 50/50 mixture of coolant and distilled water is standard). Manufacturers generally advise that coolant be completely flushed and replaced every two years (refer to your owner's manual). If you do need to add/drain some coolant, make sure to keep it out of reach of your furry friends—dogs particularly love the taste of coolant, and drinking even small amounts can be lethal.
2. EXAMINE YOUR AIR CONDITIONING SYSTEM
Check for worn or damaged belts in your air conditioning system. Your compressor is located near the front of the engine, and is powered by the main drive belt—if the belt is worn or cracking, it could fail (often at the most inopportune moment, like when the temperature is in the triple digits!). Also check your refrigerant levels. If you spot any problems, take the opportunity to visit your mechanic before serious issues arise.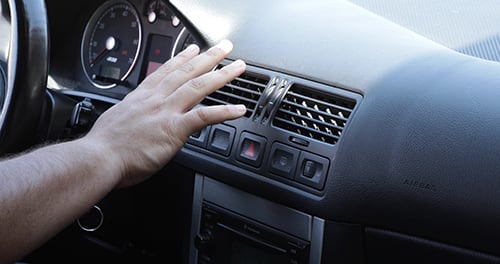 3. TAKE A LOOK AT YOUR BRAKE PADS
Winter can be hard on brake pads—and if not replaced (if necessary) in the spring, the high temperatures of summer can cause serious brake pad degradation. When looking between your wheel's spokes, you should be able to see at least one-fourth of an inch of pad—any thinner than that, and you will most likely need them to be replaced. If you hear a high-pitched screech when braking, it's a clear indicator that your pads need to be checked. When in doubt, have a trusted mechanic inspect your brakes for you.
4. SWAP FOR SUMMER TIRES
An often-overlooked component of safe summer driving, summer tires (often called performance tires) are designed to maintain excellent grip on the road—even if the pavement is burning hot or soaking wet with rain. They typically feature shorter sidewalls, less prominent tread, and stiffer construction, allowing for less friction and better fuel economy. You will also likely enjoy enhanced cornering and braking. Remember to always check your tires for proper inflation, as high temperatures can cause pressure variations, sometimes resulting in blowouts. (This is also a good time to check the pressure in your spare tire, if you have one).
5. PLAN AHEAD FOR TOWING
If you plan on towing for your summer trips—whether it be a trailer, boat, or toy hauler—you definitely want to check to make sure that your planned load is under your vehicle's maximum towing capacity, your trailer hitch is secure, and your lights are working properly. It's much easier to check things out ahead of time—rather than trying to correct problems the morning of a big trip!
6. SWITCH OUT YOUR WINDSHIELD WIPERS
There's nothing like an unexpected thunderstorm in the middle of a sweltering summer—especially if your windshield wipers have turned into ineffectual, screechy sticks in the heat. Take a few minutes to ensure that your wipers still have good grip, and replace them if necessary.
7. CHANGE YOUR ENGINE/CABIN AIR FILTERS
After a couple of months of minimal rainfall, the dust starts to rise—and your filters will often clog much more quickly than in the winter months. A clogged filter decreases airflow to your engine and can dramatically reduce performance. If your air filter needs to be replaced, check out K&N's High-Flow™ Air Filters—since they're washable and reusable, you can easily clean and reinstall them, especially if your summer adventures take you into particularly dusty areas. If you have a cabin air filter, check out K&N's washable line, which helps protect your cabin and passengers from airborne dust and contaminants.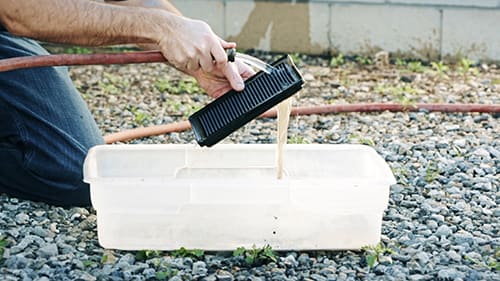 8. GIVE YOUR VEHICLE A DETAIL
Bird poop and dead bugs aren't just unsightly on your vehicle's paintjob—they can actually eat through your vehicle's clear coat, particularly in hot weather. It's also much easier to wash your vehicle in cooler temperatures, as your cleaning products won't evaporate as quickly.
*This post is for general informational purposes only, and we do not warrant that the information provided will produce any specific results or achieve any intended purposes. Every vehicle is different and subject to different road conditions and wear and tear. You should always follow your vehicle or product manufacturer's recommended instructions and/or service schedule, consult the owner's manual, and/or have your vehicle evaluated by a properly trained mechanic.
Modifying your vehicle can affect its safety and road worthiness. Modifications, including maintenance and cleaning, may void any applicable warranties to a product or vehicle. You are advised to contact the product manufacturer or authorized reseller prior to conducting any repairs, maintenance, or modifications. The information provided herein is provided is not intended for any particular product or purpose and may not be suitable for all users, vehicles, or products. K&N will not be responsible for any damage to persons or property, including but not limited to any direct, indirect, incidental, consequential, punitive, or exemplary damages arising out of or related to your use of or reliance on the content contained in this post. Please read the applicable instruction prior to use of any K&N or other manufacturers' product.