CABIN FILTERS HELP PROTECT YOUR INTERIOR AIR
Did you know that your car most likely has a cabin air filter? Most modern vehicles have a special filter—typically installed behind the glove box—that is designed to help prevent pollutants and contaminants in the exterior air from entering your vehicle's cabin.
Does your car have a cabin air filter?
Most late-model vehicles have a cabin air filter, but you will need to check your owner's manual to determine if your vehicle has one.
What does a cabin air filter do? Do you really need one?
Cabin filters help prevent objects like twigs and leaves from entering your cabin, and can also help reduce allergens and unpleasant odors. A clean cabin filter also helps protect the integrity of your interior ventilation system. If a cabin filter gets too clogged, the motor in your vehicle's A/C system can become strained, and you may notice that it takes longer for fogged windows to clear, or that your cabin doesn't heat and cool as efficiently as before.
Learn more about cabin air filters by watching this video:
HOW OFTEN DO YOU NEED TO CHANGE YOUR CAR'S CABIN FILTER?
Most vehicle manufacturers recommend changing your cabin filter every 12,000-15,000 miles. If you have a K&N cabin filter, we recommend servicing it every 12,000 miles (or more frequently if you live in a particularly dusty or polluted environment).
HOW DO YOU REPLACE A CABIN AIR FILTER?
To replace your cabin filter, you will simply slide the old filter out of its housing and install a new filter in its place. Your vehicle's cabin filter is typically located in one of three locations: under the dashboard, behind the glovebox, or inside a compartment on the passenger side of the firewall in the engine bay.
If you choose to install a washable, reusable K&N filter, you will be able to quickly and easily clean and reinstall your filter instead of throwing it away when it gets dirty.
HOW DO YOU CLEAN A K&N CABIN AIR FILTER?
To clean your K&N cabin filter, you will simply remove the filter from its housing, apply cleaner, rinse, air dry, and apply filter refresher before reinstalling. Detailed instructions are included with your kit, or you can follow the instructions on our cleaning page.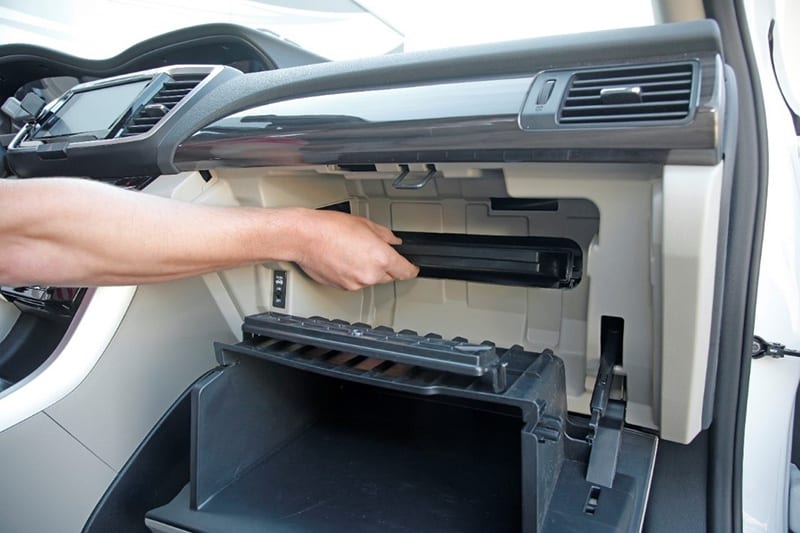 WHERE CAN YOU GET A CABIN FILTER REPLACEMENT?
K&N washable, reusable cabin filters never need to be replaced! One filter is designed to last for the entire lifespan of your vehicle. K&N cabin filters are designed to help trap dust, pollen, mold, bacteria, fungi, and other pollutants. Each filter is engineered to install easily into your factory cabin air box, and is designed to be easily washed and reinstalled whenever necessary. They also flow up to 25% more air than typical aftermarket disposable filters.
You can find yours by clicking the button below and entering your vehicle's information.
K&N Cabin Air Filter Details:
Electrostatically charged to capture most mold, mildew, pollen, spores, fungi, dust, germs, and other contaminants
Flow up to 25% more air than typical aftermarket disposable filters
Washable and easy to clean and reuse
Engineered to last for the life of your vehicle
Specially designed filter media is pleated to increase contaminant-capturing surface area
Specially treated to help capture contaminants that cause odors
Pre-treated and ready to install
Fits directly into your factory cabin air box
10-Year/Million Mile Limited Warranty™