Cheaper isn't always better. K&N reusable air filters are definitely worth the extra up-front cost, because they are designed to last for the entire lifetime of your vehicle.
K&N Air Filters Help Save You Money Over Disposables
One Customer Use Case: Mike's F150
One of our customers, Mike, recently purchased a K&N air filter for his F-150.
Mike's Ford dealer recommends that he change his air filter every 15,000 miles, at a cost of around $50. His Ford manual says change the air filter every 30,000 miles, with an average DIY replacement cost of $25.00 for a paper filter. However, most drivers report that they change their air filters after every 15,000 and 20,000 miles.

The K&N high-flow air filter Mike installed cost about $55, and took him about 5-minutes to replace. Using the 20,000 mile filter change timetable, Mike will have already saved money from his K&N filter after only two scheduled air filter changes. 10,000 miles later, after a normal 50,000 miles of driving, he can simply wash his cotton gauze K&N reusable filter and slide it back in place for another 50,000 miles (under normal highway driving conditions). If he were to install an intake with an oversized cotton filter, he would be able to drive up to 100,000 miles before his first filter service. Mike won't need to buy a disposable filter for his F-150 ever again, because his K&N replacement filter is covered by K&N's "No-Hassle" Lifetime Limited Warranty. The K&N replacement filter is designed to last for the entire lifespan of his F150.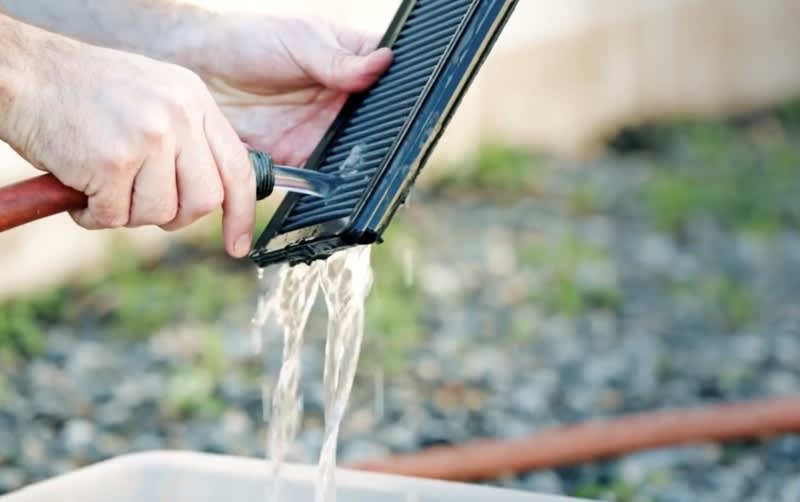 Can K&N Replacement Filters Really Last for 1 Million Miles?
K&N filters can - and have - lived up to their million-mile reputation. K&N replacement air filters are guaranteed by a Lifetime Limited Warranty, and are designed to last for the entire lifespan of your vehicle. If you plan to drive your vehicle for several years, the savings can be significant. Assuming a car is driven for 400,000 miles, with a filter service every 20,000 miles, the cost of disposable filters can quickly add up. Twenty disposable air and cabin filter replacements, averaging around $25 each, could cost an estimated $500 over the lifetime of a vehicle.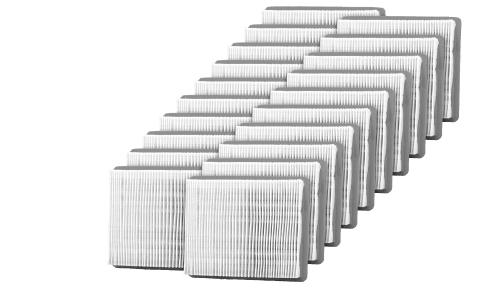 Disposable vs. K&N Air Filter
Cheaper Isn't Always Better - Get More Airflow with K&N
K&N filters offer exceptional airflow to your engine - and more airflow often translates to more efficient fuel burn. Disposable filters aren't typically designed with the performance enthusiast in mind; they are designed to be simple, cheap, and functional. A K&N filter is a premium upgrade that is designed for the highest level of quality at every step in the manufacturing process, and tested to give you extra "oomph" from the off-road to the onramp.
K&N Filters Are Built to Last
There are many imitations of the iconic K&N high-flow air filter, but there's no true alternative. Many generic filters are available online copying the appearance of K&N filters, but you can only trust that you are receiving true K&N quality when you purchase directly from K&N or an authorized dealer. Each K&N filter design is tested in an ISO 5011 laboratory to ensure excellent filtration efficiency for outstanding engine protection.
THE MAGIC SAUCE - RED 201 FILTER OIL
The original red filter oil is what separates K&N filters from the pack. The tacky oil helps trap—and hold—dirt and contaminants, keeping them in the filter and out of your engine.
DURABLE URETHANE FRAME
Liquid urethane is custom-poured and cured for a guaranteed fit, and engineered to last for a million miles of use.
EPOXY-COATED SCREEN MESH
Pleated mesh protects both sides of the cotton filter media and provides a sturdy structure for long-lasting durability.
CUSTOM COTTON FILTER MEDIA
Four or six layers of pleated cotton filter media act as a physical barrier to contaminants, with pleats specifically engineered to provide a large capturing area.