A REVOLUTION IN AIR CLEANER TECHNOLOGY
The Flow Control System utilizes a newly designed base in combination with a unique lid designed to reduce intake turbulence. The resulting smooth, laminar flow enhances cylinder filling, horsepower, and torque. The filter element is the world famous K&N Filtercharger® for the ultimate in airflow and filtration.
The flow control system is legal in California only for racing vehicles which may never be used, registered, or licensed for use upon a highway. See knfilters.com for CARB status on each part for a specific vehicle.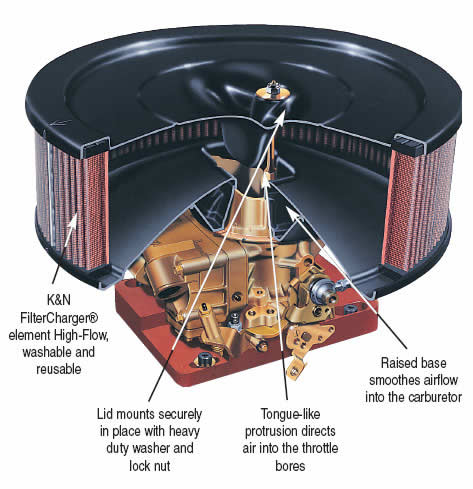 2-Barrel Flow Control Systems
2-BARREL HOLLEY WITH AND WITHOUT CHOKE TOWER
Circle Track Magazine discovered this model and featured it in one of their issues. That started the racers calling. Fits the very popular 4412 Holley 2-barrel by removing the choke assembly and leaving the choke tower untouched. Gigantic increase in air flow and lots of horsepower. The small block with about 340-360hp can expect up to a 15-17hp increase. In the 400-420hp range the range increase climbs up to 20-22hp. If your engine builder tells you that is impossible, just take one to him and run it on the dyno. Two sizes available and all the air you'll ever need. Diagram of this flow control system.
2-Barrel Holley with Choke Tower
2-Barrel Holley without Choke Tower
After watching all the work to create the Flow Control compromised by a badly designed wrap, it just seemed smart to control that part of the installation also. Designed to control heat and help the air flow.
NThe choice of quite a few racing associations. This carburetor is used in an attempt to equalize competition. If you have to use this carburetor, you "must" use this air cleaner. It may be the most trick piece we have. Clears the HEI distributor on the cast iron manifold. Only one size offered because only one size works. .
4-BARREL FLOW CONTROL SYSTEMS
4-BARREL HOLLEY DOMINATOR
The newest addition to the K&N Flow Control Air Cleaner line is specifically designed for all Holley Dominator carburetors, including Holley's newest HP Series. This Flow Control Assembly takes full advantage of the 360? air delivery system by using K&N's 4-1/2" Filtercharger. Using this assembly can produce a whopping 1200 cfm which will be more than enough air for any motorsports application! When it's time to dominate the competition, this is the Flow Control for you!
14" x 4.5" - 61-6000
4-BARREL HOLLEY WITH AND WITHOUT CHOKE TOWER
The inspiration for this particular air cleaner was the 390 cfm Holley. Many tracks and racing organizations use this carburetor as a restrictor. Flows plenty on the 390 and you can pass it all the way up to the mighty 850 and it keeps on making horsepower. Available in two sizes and complete with all parts necessary. Diagram of this flow control system .
4-Barrel Holley with Choke Tower
For those of you who have not modified your choke tower, this is just the ticket for your bracket car or late model sportsman.
4-Barrel Holley without Choke Tower
4-Barrel Holley Low Profile without choke tower
This air cleaner was designed for those installations with the carburetor mounted high against the hood. An engine that requires 700 cfm or more to develop a certain level of power just will not work with hood clearance that will only allow 450. There are race cars with less than 1/2" between the hood and the vent tubes of the carb. This model Flow Control is as low as is recommended to assure maximum air flow. In fact, it was necessary to enlarge the diameter to 16" to get the proper approach to turn the corner. Fits 390-850 Holley.
NOTE: This model works only without the choke tower and works great with restrictor plate engines. If you're working with these engines, call the factory and get all the info. Available in two sizes with all necessary parts.
16" x 3.5" - 61-4500
16" x 4.0" - 61-4520
X-STREAM FLOW CONTROL ASSEMBLIES FOR 4-BARREL HOLLY CARBURETORS
These New Flow Control Clips are designed for added support around the outside of the complete assemblies. Made of spring steel and black powder coated these Clip kits come in sets of four (4) and are available for the Flow Control Assemblies listed.
Flow Control 14" x 4.0" - 85-83890
Flow Control 14" x 4.5" - 85-83892
Flow Control 16" x 3.5" - 85-83894
Flow Control 16" x 4.0" - 85-83896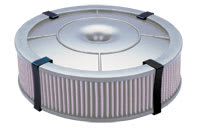 REPLACEMENT AIR FILTER ELEMENTS
All of the air cleaner assemblies listed were developed as complete kits. A lot of time and effort went into each combination of parts and dimensions for the intended carburetor. Keep them that way for the best results!
14" x 2.5" - E-3735
14" x 3.0" - E-3737
14" x 3.5" - E-3745
14" x 4.0" - E-3730
14" x 4.5" - E-3732
14" x 4.5" - E-3732
14" x 5.0" - E-3760
14" x 6.0" - E-3770
16" x 3.5" - E-3804
We use cookies to personalize content and ads, to provide social media features and to analyze our traffic. We also share information about your use of our site with our social media, advertising and analytics partners. Learn more.