VF8000 K&N Cabin Air Filter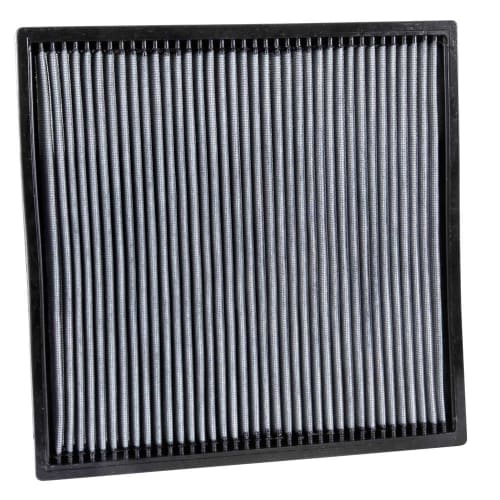 VF8000 K&N Cabin Air Filter
Overview
The K&N VF8000 Heavy Duty Cabin Air Filter replaces the factory cabin air filter on most 2002 and newer Freightliner trucks, including Century Class, Columbia and Coronado, and Cascadia models. Verify your fit by using your current cabin air filter with our VF8000 cross references. K&N cabin air filters have a durable and reusable design that cleans and freshens incoming air. They help capture most mold, mildew, fungus, spores, bacteria, and germs controlling odors and contaminants inside the cabin during those long hauls. They are electrostatically charged to grab and hold dust particles. When they get dirty no need to replace, K&N's cabin air filters are incredibly easy to clean and reuse and best of all, they come with a 10 year / Million Mile limited warranty.

WASHABLE & REUSABLE
Unlike disposable filters, K&N cabin air filters are washable, reusable, and engineered to last for the life of your vehicle. Easy to clean and reuse.
PROTECT YOUR FAMILY
Electrostatically charged to help trap harmful airborne contaminants. Help protect against most mold, mildew, fungi, spores, bacteria, germs, pollen, and other allergens.
We use cookies to personalize content and ads, to provide social media features and to analyze our traffic. We also share information about your use of our site with our social media, advertising and analytics partners. Learn more.