SAFETY RECALL NOTICE
K&N Engineering, Inc. (K&N) has determined that certain K&N oil filters, Part Nos. KN-204 (black) and KN-204C (chrome), manufactured between March 1, 2016 and September 30, 2016 contain a defect related to motor vehicle safety. K&N is conducting a voluntary recall program to replace those parts.
ITEMS COVERED BY THIS RECALL
The KN-204 (black) and KN-204C (chrome) oil filters covered by this recall have manufacturing date codes imprinted on the ends of the filters that contain as the second and third characters of the code the number/letter combinations of 3H, 4H, 5H, 6H, 7H, 8H or 9H, with the number corresponding to the month of the year (i.e., 3 for the month of March, 4 for the month of April, etc.) and the letter "H" representing the year 2016. KN-204 and KN-204C oil filters manufactured outside of that date range and which bear different manufacturing date codes are not covered by this recall. K&N oil filters with a different part number are also not covered by or involved in this recall.
If you purchased a KN-204 and/or KN-204C oil filter since March 1, 2016, or if you believe you may have such a filter installed on your vehicle, please check to see if it has a manufacturing date code within that range. The date code can be found as shown in the photograph below. In this photo, the relevant character combination is "7H", which indicates the oil filter was manufactured in July 2016.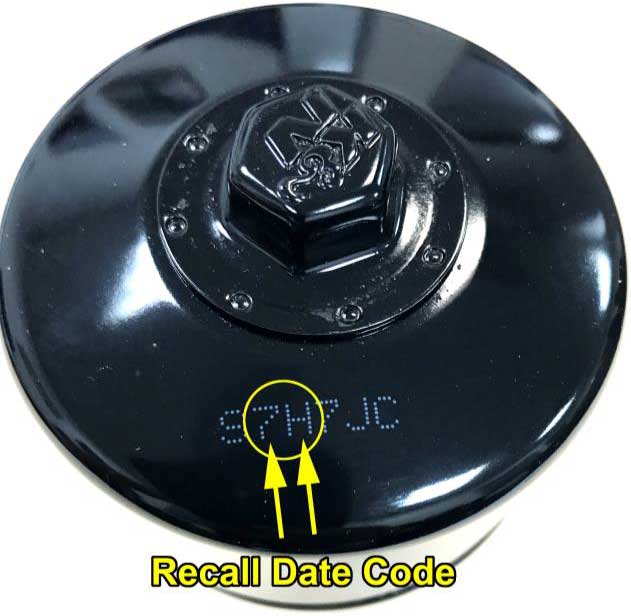 WHY WE ARE TAKING THIS ACTION
K&N has discovered that certain KN-204 and KN-204C oil filters manufactured between March 1, 2016 and September 30, 2016, can leak oil at the area where a nut (intended for use to remove the oil filter during routine oil changes) is welded to the end of the filter. If there is such a leak, oil could come into contact with the rear tire or rear brake of the motorcycle on which the filter is installed. If this were to occur, it could lead to a loss of control or a crash. Therefore, K&N is offering to replace the affected oil filters at no charge. This offer of a free replacement also applies to those covered KN-204 and KN-204C oil filters that may have been purchased for use in an application other than a motorcycle, such as an ATV (all-terrain vehicle) or PWC (personal watercraft).
WHAT YOU SHOULD DO
Please inspect the manufacturing date codes of any KN-204 and/or KN-204C oil filters that you have in your possession or installed on your vehicle/ATV/PWC to determine if they are covered by this recall. If so, please contact K&N immediately at (800) 643-6320 or at [email protected] to make arrangements to obtain a replacement oil filter at no charge, or, at your option, to obtain a refund of the purchase price of your recalled filter (with proof of purchase). IF YOU HAVE VERIFIED THAT YOU HAVE A KN-204 OR KN-204C OIL FILTER INSTALLED ON YOUR MOTORCYCLE OR POWERSPORT MACHINE THAT HAS ONE OF THE SEVEN LISTED DATE CODES, THEN DO NOT OPERATE IT, UNTIL THE OIL FILTER IS REPLACED.
If you have any questions about this recall, then please contact K&N at this toll-free number (800) 643-6320 or e-mail K&N at [email protected].
K&N sincerely regrets any inconvenience that this recall may cause you, but we want to assure that any possible safety problems in our products are remedied promptly.
We use cookies to personalize content and ads, to provide social media features and to analyze our traffic. We also share information about your use of our site with our social media, advertising and analytics partners. Learn more.