CUSTOM 66 SERIES AIR CLEANER ASSEMBLIES

These custom air cleaner assemblies from K&N are designed for use with any engine that uses a round element air cleaner housing. They incorporate our famous K&N Air Filters and provide serious air flow. Each complete assembly comes with base, element, top plate and stud. Available in 6 different designs, the perfect assembly is sure to be found here.
Dual Quad Arrow Assembly #
66-5080F
(left unit)
Dual Quad Oval Assembly #
66-5080R
(right unit)
The Dual Quad Assembly is designed to fit 4 barrel carburetors with a 5-1/8" neck flange. The minimum center-to-center spacing required is 7-13/16". The filter is 2 1/2" tall and entire assembly height is 4 1/8". Approximate length and width of the Arrow Assembly is 12"L x 9"W. The Oval Assembly is approximately 10" X 10". Total length depends on the distance between carburetors. A 8" center-to-center carburetor distance will have a total length of 20 1/2".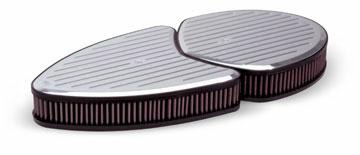 These 14" assemblies feature a billet aluminum lid with spokes and a carbon fiber insert. They include our popular 3" tall E-1650 element. Both fit 5-1/8" carburetor flanges and are available with either 1-1/4" drop base or standard 9/16" raised base.
These filters are legal ONLY for racing vehicles. Not applicable, nor intended for use on emission controlled street or highway vehicles.
We use cookies to personalize content and ads, to provide social media features and to analyze our traffic. We also share information about your use of our site with our social media, advertising and analytics partners. Learn more.