K&N UNIVERSAL INLINE FUEL PUMPS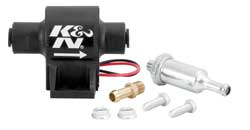 -Compatible with diesel, biodiesel, gasoline, E 85, methanol, ethanol, alcohol and other fuels.
-Universal design fits most applications.
-Self-priming design provides a quiet running volume.
-Eliminates vapor lock and flooding.
-Fuel filter and installation hardware is included.
INLINE FUEL PUMPS
K&N Inline Fuel Pumps provide premium quality fuel system hardware with a universal design that fits a wide variety of applications. Compatible with most fuels, this self-regulating 12-volt pump helps prevent vapor lock and flooding.
K&N UNIVERSAL INLINE FUEL PUMP 81-0400
K&N 81-0400 universal inline fuel pump is engineered to pump 15 gallons per hour between 1 and 2 psi.
Inline Fuel Pump 81-0400
K&N INLINE FUEL PUMP 81-0401
K&N 81-0401 universal inline fuel pump is engineered to pump 25 gallons per hour between 1.5 and 4 psi.
Inline Fuel Pump 81-0401
K&N INLINE FUEL PUMP 81-0402
K&N 81-0402 universal inline fuel pump is engineered to pump 32 gallons per hour between 4 and 7 psi.
Inline Fuel Pump 81-0402
K&N INLINE FUEL PUMP 81-0403
K&N 81-0403 universal inline fuel pump is engineered to pump 34 gallons per hour between 7 and 10 psi.
Fuel Pump Filter 81-0403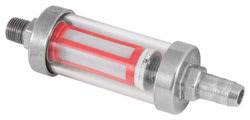 K&N INLINE FUEL PUMP FILTER 81-0302
K&N 81-0302 inline fuel pump filter kit includes three replacement filter elements and six o-ring seals. This replacement element kit is for the 81-0300 clear view fuel filter.
Fuel Pump Filter Element 81-0302
K&N INLINE FUEL PUMP FILTER ELEMENT 81-0301
K&N 81-0301 inline fuel pump filter element can be used with 5/16 inch or 3/8 inch fuel line. It features a glass body for clear, quick viewing of any debris trapped in the white mesh.
Inline Fuel Pump 81-0301
We use cookies to personalize content and ads, to provide social media features and to analyze our traffic. We also share information about your use of our site with our social media, advertising and analytics partners. Learn more.