EVERYTHING YOU WANT TO KNOW ABOUT YOUR OIL FILTER
What does an oil filter do?
Your engine oil filter is critical to the health of your vehicle; its primary function is to protect your engine from harmful contaminants by filtering your engine oil. Your oil filter also has to strike a balance between filtering out pollutants and allowing oil to flow freely into your engine. K&N premium oil filters balance high flow rates with outstanding filtration, making them a top choice for performance-minded drivers from the race track to the on-ramp.
What is engine oil, and why is oil filtration important?
Your engine has many moving parts, and engine oil helps ensure that those parts operate smoothly without generating friction or excess heat. The oil lubricates those moving parts and absorbs heat, allowing your engine components to work together effectively. Over time, engine oil breaks down, wears out, and can gather impurities. When that happens, the oil becomes less effective at lubricating the engine and can become abrasive enough to grind against vital engine components. Your oil filter helps preserve the life of your oil, and in turn your engine, by reducing the build-up of contaminants and microscopic metal particles.

Clean, consistent oil flow is invaluable in a car or truck, and is especially important in a motorcycle or dirt bike application which uses a fraction of the oil of a larger vehicle. On a sport or dirt bike, your engine oil may also be your transmission oil, which can catch debris from the clutch. In these cases, oil filtration is that much more vital to the health of your engine.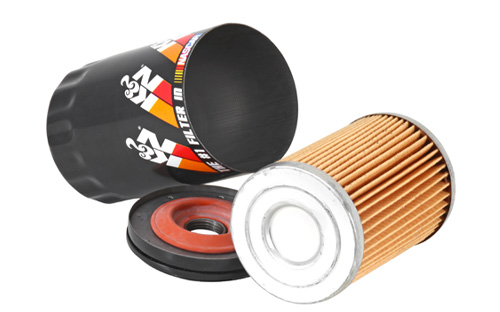 What's the difference between a stock and premium oil filter?
It used to be that vehicle manufacturers would recommend oil changes every 3,000 miles. Today, most drivers change their oil and oil filter every 7,500-10,000+ miles. A premium oil filter helps ensure the health of your engine over those extended periods between services. K&N stands apart from the pack with filters that offer outstanding filtration, consistent oil flow, and high-quality materials that can withstand the demands of those long change intervals. Whether you drive a car, truck, ATV, or motorcycle, the durability of your oil filter is critical. As standard oil filters clog, excess pressure can build up causing dirty oil to bypass the filter and recirculate through the engine, where it can cause irreparable damage. A durable, high-flow oil filter is designed to withstand longer service durations without clogging, which helps reduce the chance of oil bypassing the filter between services. In essence, a premium oil filter offers low-cost insurance for your engine, potentially saving you hundreds of dollars in repairs over the lifetime of your vehicle. Open up a K&N oil filter, and it's easy to see why elite racers and performance enthusiasts trust their engines to K&N.


Premium filtration. K&N oil filters feature a thick layer of pleated synthetic-blend media. The many pleats provide increased surface area, allowing the filter to efficiently capture dirt for long service intervals.
Heavy-duty canister. K&N protects the oil filter with a thick-gauge steel canister, base plate, and double-rolled seal for outstanding durability and long-life performance. The thick steel provides the strength needed to help protect your filter from being punctured by road debris, which is especially important on a motorcycle, dirt bike, or off-road ATV.
Heavy-duty components. K&N considers durability and wear in each component of K&N oil filters. Unlike the cardboard filter caps of a stock filter, K&N protects its premium filter with sturdy metal caps. Thick metal springs help maintain pressure within the canister, and are engineered to withstand hot oil temperatures with ease. The anti-drainback valve is a durable, temperature-resistant silicone, unlike stock components which are often made of plastic or other lower-quality materials. Each component is built to withstand continuous wear and temperature fluctuations to ensure the long-term health of your engine.
Wrench-Off® design. Changing your oil filter is a fairly easy at-home DIY, and is often a favorite first project for novice mechanics. K&N helps make routine maintenance even easier with a built-in, one-inch nut that allows you to easily remove the canister with a standard wrench, instead of having to deal with clumsy specialty filter wrenches.
Pre-drilled nut. K&N pre-drills the wrench-off nut with a hole for a safety wire attachment. This helps ensure that your oil filter is securely installed – which is especially vital on a motorcycle application, or in racing or other extreme conditions.
Packaged for safe use from day one. Unlike many stock filters, K&N filters are wrapped in plastic as part of the manufacturing process. This extra layer helps protect your filter from collecting dust and dirt during shipping and before installation.
Oil compatible. Premium K&N oil filters are designed to use synthetic, conventional, and blended motor oils, which makes them a great choice for nearly any vehicle.
Extensively tested. K&N got its start in desert motorcycle racing, and to this day, K&N products are road-tested under extreme, high-intensity conditions. Each K&N oil filter design is engineered to meet or exceed OEM specifications for efficiency, and has been thoroughly lab tested for efficiency, capacity, and burst strength.
What kinds of engine oil filters does K&N offer?
K&N oil filters come in both cartridge and canister styles, and are designed to fit most cars, trucks, motorcycles, off-road vehicles, and watercraft. All are oil-compatible, and are designed to use synthetic, conventional or blended motor oils. All K&N oil filters come with a 1-Year Limited Warranty. Which model you choose largely depends on the performance demands of your vehicle.
K&N Performance Gold® Oil Filters: The Gold Standard for Performance Motorists
A top choice for racers and high-performance motor enthusiasts, the K&N HP Oil Filter offers ultra-premium filtration and durable, long-lasting protection. Available in both canister and cartridge styles to suit most vehicles, all Performance Gold Oil Filters pair exceptionally efficient filtration with high capacity and high flow rates, which means clean oil flows consistently into your engine. The heavy-duty steel canister and high-quality components reduce the risk of damage to the housing, and ensure the filter can withstand high oil pressure without bursting. For added convenience, K&N's signature wrench-off design makes it easy for both experienced wrenchers and novice mechanics to easily remove the filter and mount a new one securely in place. The wrench-off nut has a hole drilled through it to attach a safety wire if necessary.
K&N Performance Silver® Oil Filters: Best-in-Class Performance & Value
K&N's PS line is ideal for everyday driving – offering outstanding performance at an affordable price. Available as both a fluted canister and cartridge, the Performance Silver Oil Filter fits most vehicles and is designed for easy installation and removal with a standard oil filter wrench. It also includes rolled threads for safe, durable mounting. Like the HP filters, the PS filter line is compatible with synthetic, conventional, and blended motor oils. Most importantly, the PS includes K&N's trademark pleated synthetic filter media technology that balances efficient removal of dirt and debris with high oil flow rates for consistent, long-lasting performance.
Ultra-Premium Motorcycle and ATV Oil Filters
K&N got its start in motorcycle racing, so it's no surprise that they outfit elite motorcyclists and weekend warriors alike with best-in-class oil filtration. Ultra-premium canister models come with a 17mm wrench-off nut for easy filter removal, and come pre-drilled for a safety wire attachment. Durability is critical in motorcycle and ATV racing because your oil filter is often more exposed to the elements. K&N's durable steel canisters help ensure filter performance even under extreme conditions.
Heavy-Duty Oil Filters for Diesel Class 4-8 Trucks and RVs
K&N has also adapted its premium filtration technology for the high-compression levels and tighter tolerances of large, class 4-8 turbo diesel engines. These filters feature synthetic micro-glass, and provide the same incredible engine protection and low flow restriction that K&N drivers have come to count on. The sturdy steel canisters also include a one-inch nut, providing for easy wrench-off removal.
How do you know when it's time to change your oil filter?
K&N premium oil filters are built to withstand the long intervals between service changes, which are often around 10,000 miles for newer vehicles. Regular oil maintenance is critically important to the health of your vehicle, so don't put off your oil change or oil filter replacement. Follow your manufacturer's recommendations for oil and oil filter replacement.



Click Image to Enlarge