1995 Toyota MR2 2.0L L4 Gas Cold Air Intakes
57-0387 K&N Performance Air Intake System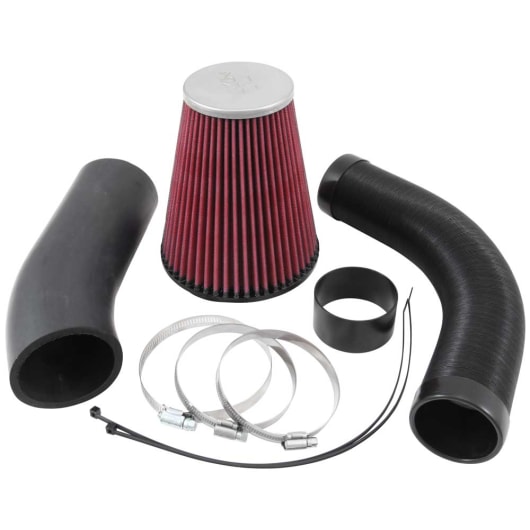 Tools Needed
Wrench, Extension, Flat Blade Screwdriver, Allen Wrench
57-0387 K&N Performance Air Intake System
Overview
K&N 57i Series induction kits are specifically designed for each different vehicle and will free your car from the size restriction that comes with the factory air box. These economical kits can take a variety of different forms based on vehicle characteristics and available space under the hood. Each kit is designed to provide power throughout the RPM range. The extra surface area of these open-air air filters provides even more airflow at lower restriction than a K&N O/E replacement filter which is limited to the size of the factory air box. The larger air filter also captures and holds more dirt increasing its service life before a cleaning is required (up to 100,000 miles). The filter is either directly attached to the engine carburetor or throttle body or indirectly through a tube assembly running from the filter to the engine. All adapters are made from high quality materials such as steel, aluminum, silicon or reinforced nylon to ensure long life. 57i Series Intakes are not legal for use in California and other US States adopting California emission standards.
Tools Needed
Wrench, Extension, Flat Blade Screwdriver, Allen Wrench
---
57-9001 K&N Performance Air Intake System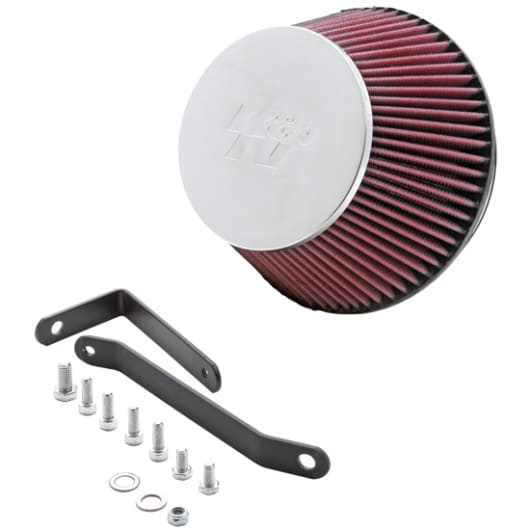 Tools Needed
Wrench, Extension, Flat Blade Screwdriver, Allen Wrench
57-9001 K&N Performance Air Intake System
Overview
The K&N 57-9001 FIPK air intake system replaces the restrictive factory air filter and air box in some Toyota MR2 Turbo models. K&N intakes are designed to dramatically reduce intake restriction and improve air flow. This allows your engine to inhale a larger amount of air than the factory air filter assembly. More air means more usable power and acceleration throughout the engine's RPM range. The 57-9001 air intake comes with a chrome topped K&N high-flow air filter that installs onto the factory mass air sensor within the previous air box space. Air is directed through the air filter into the engine's throttle body for a guaranteed power gain. The oversized cone shaped air filter can be used for up to 100,000 miles before servicing is needed depending on driving conditions. This air intake is relatively easy to install usually in 90 minutes requiring commonly available tools to do the job. K&N 57 Series FIPK's are street legal in all 50 US states and come with K&N's Million Mile Limited Warranty.
Tools Needed
Wrench, Extension, Flat Blade Screwdriver, Allen Wrench
---
We use cookies to personalize content and ads, to provide social media features and to analyze our traffic. We also share information about your use of our site with our social media, advertising and analytics partners. Learn more.