Help protect the engine of your Camry and gain a guaranteed increase in horsepower and torque with the K&N® 69-8621TTK air intake system, engineered specifically for 2018 Toyota Camry 2.5L models (including hybrids). The K&N® 69-8621TTK mandrel-bent aluminum intake system offers an estimated power increase of 3.1-horsepower and 8.0 lb./ft. of torque*.
WHY A K&N PERFORMANCE AIR INTAKE SYSTEM? BOOST HORSEPOWER AND TORQUE!
The 69-8621TTK is designed to help keep engine air cooler, which can increase engine combustion efficiency, and helps provide a smooth, low-restriction path for airflow to the engine. Your engine needs oxygen to create power; the cylinders in your vehicle's engine have to have air to create the explosion that produces horsepower and torque. Since cold air contains more oxygen molecules than warm air, injecting a higher volume of oxygen-rich air into the cylinders allows the engine to burn fuel more efficiently during combustion—providing an increase in power.
In a typical stock air intake system, air has to pass through a thick, disposable paper filter, and then move through a narrow system of tubing that can cause air to swirl and become turbulent. Excess turbulence causes the molecules within the air to collide, creating heat, which lowers the density of the air and reduces the efficiency of combustion. All K&N intake systems are specifically engineered to help keep your engine air cooler.
"Really helped the throttle delay in my 2018 Toyota Camry SE 2.5l 4cyl. Couldn't be happier." – Lonnie from South Carolina [Part No. 69-8921TTK]
AERODYNAMIC INTAKE TUBE INCREASES AIRFLOW
Since engine combustion is most efficient in an oxygen-rich environment, keeping engine air cooler often significantly increases engine combustion efficiency. The 69-8621TTK intake system features a mandrel-bent aluminum intake tube, which is engineered to reduce turbulence in the air, which helps keep engine air cooler and increases engine performance!
"Couldn't be happier with this intake. Easy installation, great sound and noticeable performance. Looks great, sounds great and performs as advertised. Well done K&N." – Shawn from North Carolina [Part No. 8621TTK]
HIGH-FLOW AIR FILTER™ OFFERS EXCEPTIONAL PROTECTION
Under normal circumstances, most automotive air filters demonstrate an inverse relationship between airflow and efficiency—the higher the airflow, the less efficient the air filter is at protecting the engine, and vice versa. The oiled design of K&N air filters assists in "absorbing" dirt particles—and in turn helps incorporate those particles into the filter surface itself, which helps maintain the filter's efficiency and ability to flow air. When tiny particles are captured and saturated with oil, they in turn can become tacky, allowing them to capture other particles.
The High-Flow Air Filter™ included in the 69-8621TTK intake kit is oversized with a conical shape, providing a greater surface area and allowing for a service interval of up to 100,000 miles between cleanings (under normal highway driving conditions). High-Flow Air Filters feature an oiled, layered design. When your filter does need to be cleaned, you can use the K&N Recharger® Kit (99-5000 or 99-5050) to quickly and easily restore your filter's performance. Each K&N intake (and filter!) is designed to last for the life of your vehicle.
"Easy installation, setup the rubber edging ahead of time and the rest is less than an hour. Idle smoothed out immediately with a noticeable acceleration boost. Nice sound." – Barry from Georgia [Part No. 69-2026TTK]
INSTALLATION
The K&N 69-8621TTK intake system is engineered to incorporate factory mounting points and the factory mass air sensor. Installation can typically be completed in 90 minutes or less, and requires only simple hand tools. Detailed instructions are included in your kit, and installation videos for many vehicles are available on the K&N website.
Engineered to fit:
2018 Toyota Camry Hybrid 2.5L L4 Fuel Injection
2018 Toyota Camry 2.5L L4 Fuel Injection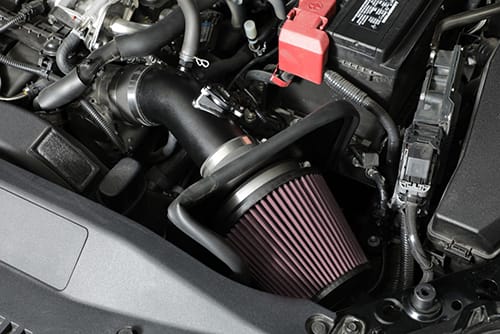 WARRANTY
Each intake system comes with a 10-Year/Million Mile Limited Warranty. Furthermore, using a K&N replacement air intake system will not void your factory warranty; in the U.S., manufacturers must provide evidence that an aftermarket part is the cause of a necessary repair in order to void or deny warranty coverage. The Consumer Products Warranty Act of 1975 (also known as the Magnuson-Moss Warranty Act) protects consumers' rights to their warranty coverage.
"Couldn't be happier with this intake. Easy installation, great sound and noticeable performance. Looks great, sounds great and performs as advertised. Well done K&N." – Shawn from Raleigh, NC [Part No.

69-8621TTK

]
DYNAMOMETER RESULTS
K&N performance air intake systems come with a horsepower guarantee—you will get an increase in horsepower and torque! During dynamometer testing, the 69-8621TTK provided a power increase of approximately 3.1-horsepower and 8.0 lb./ft. of torque*. View the full dynamometer chart here.
"Easy to install and a wonderful value. Can feel and hear the increased performance over stock. The extra HP is nice, but the extra torque is really the kicker. Thank you K&N." – Ming from Texas [Part No. 69-8704TP]
Visit this page to purchase the 69-8621TTK air intake system, or visit the vehicle search page to explore air intake system options for your vehicle. Join the millions of customers who trust K&N to help them boost performance and protection in their vehicles!
Legal in 49 states. Not legal for sale or use in California on any pollution controlled motor vehicle.
*Horsepower gains vary among products and applications, but each K&N performance air intake system is designed to increase airflow efficiency for specific vehicles and their engines. Each kit undergoes significant testing to help ensure that the filter and intake tube are engineered to deliver large increases in airflow and horsepower. Please visit individual product pages to view horsepower estimates for your specific vehicle.